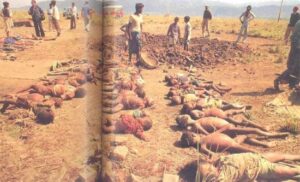 MOON Desk: The Nellie massacre should be called a genocide. The hatred with which over 2,000 people were killed on the fateful day of 18 February,1983. It was a targeted, planned, and preemptive assault on the Bengali Muslim community living in the Nellie area, located now in the Morigaon district of Assam. The majority of the victims were women and children. when the largest massacre of independent India was carried out in 14 villages including Nellie in the Nagaon district of Assam Where nearly two thousand people according to the government data, and more than ten thousand people according to unofficial data were killed in 6 hours.
The worst cruelty a man can imagine with his intelligence happened that day in Nellie where many innocent children were killed in the nearby village and thrown into the Kopili river and thousands of Muslim families were completely destroyed. Taizul Haque, the secretary of a mosque in Nellie which was burnt down stated that "They have bombed our mosque. There were 9 thousand people living in 8 villages being trapped by 40 thousand people."Another eyewitness of this pogrom stated – "They burnt down the whole village, snatching small innocent children and throwing them into the fire in front of mothers."
To date, the culprits of the Nellie Massacre are still not punished. The police and the state had a chance, if they wanted, they could have stopped such a huge massacre. During the Massacre Congress was in power in the center, and Presidential Rule was enforced in the state which meant the state and the center were in control of the Congress. But the killers of around 10 thousand Muslims are still not punished and Justice has not been provided by the system. Rather, even today the people of the Nellie Massacre are living in the same bad condition.