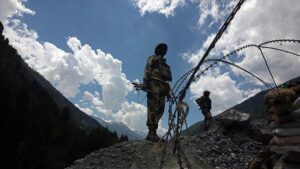 Md Nazrul: Families are at the end of their rope! They demand justice against "unlawful killings" of Bangladeshi civilians living in border areas by Indian forces for decades. A local human rights group Odhikar claimed that over the last two decades more than 1,200 Bangladeshis have been killed across the border by the Indian forces, with most of them unarmed civilians. Bangladeshi authorities also expressed concern many times over the killings of its civilians by the border forces of its neighbor that is also considered to be a historic friend. A few days ago on September 8.2022 two more people went missing in the incident that took place near pillar 315 of Dainur border around 11:00 pm, Wednesday.
The deceased was identified as Minar, 18, son of Jahangir, a resident of Khanpur area in the upazila. The missing people are Emdadul, 28, son of Latiful, and Sagor, 20, son of Salman, residents of the same area. Locals said about five people crossed into India through the border to bring dried fish. They were spotted by a patrol team of BSF while returning to Bangladesh. The BSF troops opened fire on them, leaving Minar dead on the spot. At that time, two other people went missing. The body was still laying on South Dinajpur area of Indian Territory which was recover later, said Dainur BPO nayek Subedar Akhtar Hossain.
In Recent Past Speaking to Anadolu Agency, Bangladeshi international relations professor Imtiaz Ahmed suggested that Bangladesh should contact Indian civil society groups and human rights activists about the border killings and push both governments to hold talks and address this serious issue.
"If Bangladesh and the Bangladeshi media are able to raise awareness among the Indian people and civil society about this humanitarian issue, it will create strong pressure on the Indian government to bring the border killings to zero," Ahmed asserted.