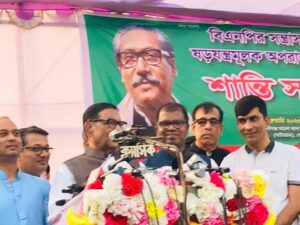 Moon Desk: Mentioning that next general election will be held as per the constitution, Awami League (AL) general secretary Obaidul Quader has said that there will be no caretaker government.
He said this while addressing at a peace rally arranged by Dhaka district AL at Keraniganj Model Thana Awami League office at Ghatarchar in Dhaka.
The AL general secretary said, "Mirza Fakhrul Islam Alamgir has started doing excess again. It is like a Carpet knight. It is your choice if you decide not to join the election. The election will be held as per the constitution. Didn't the election held in 2014 even your party boycott it?"
Calling upon BNP to join the next polls, Quader said if the party does not participate in the next elections, it will have stay in intensive care unit (ICU). The pace of their movement has gone down but the hill of their allegations is going up, he said.
Claiming that BNP is hatching conspiracy over the Chittagong Hill Tracts and Rohingya issues aiming to oust the incumbent government, Quader said BNP will not be forced to join the polls but if the party tries to halt the elections, it will be handled with an iron hand.
Chaired by Dhaka district AL president Benajir Ahmed, the rally was addressed, among others, by AL presidium member Adv Quamrul Islam, its organising secretary Mirza Azam, office secretary Biplab Barua, Dhaka North City AL Sheikh Bazlur Rahman and Dhaka Zilla AL general secretary Paniruzzaman Tarun.