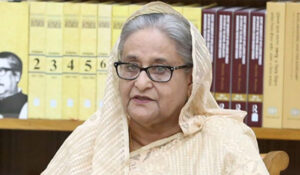 Staff Correspondent: Prime Minister Sheikh Hasina on Saturday expressed her optimism that people would not have to suffer much for electricity and fuel from the next month.
"Due to the war in Ukraine, it is difficult to buy fuel oil and procure gas. Not only our country, but also the UK, America, Germany – everywhere – they are looking at saving energy. . .  So, we had to suffer for some days. Inshallah, there will be no more suffering from next month," she said.
The premier expressed this optimism at a meeting of Awami League Advisory Council at her official residence Ganabhaban.
Urging everyone to maintain austerity, Sheikh Hasina, also the president of ruling Awami League, said, "I would tell all that they should exercise austerity in using oil and water. Be frugal, because there is economic recession all over the world. We are not free from its impact."
Reiterating her call to increase production, she said, "I have called upon all of you that as we have land, so one inch of land should not be left vacant rather produce whatever you can, even at the rooftop gardens."
Mentioning that the economic situation across the world is very bad, she said, "If we can increase our own production, we will never have to face famine in Bangladesh. This is the reality. We have to do it for ourselves."
Stating that the production in the country is more than the requirement, the head of government said, "We are finding out ways… We have increased food production. We are producing more than what we need. We always keep more food in stock for emergencies so that the people of my country don't suffer.
Talking about providing free and low-cost food to people, she said, "We are buying all the things at a high price and providing those to people at a low price so that none suffers from food shortages." Mentioning that Awami League works for the welfare of people, Sheikh Hasina said, "Our work is for the welfare of all people. Awami League works for the welfare of the people. We didn't come here to make our own fortune rather we are building the destiny of the people of Bangladesh."
She said that Awami League, after assuming power, has restored the democratic process as the people of this country did not have the real democracy or democratic rights.
"The people of this country didn't have real democracy or democratic rights before Awami League came to power.  Since AL government assumed the office, we started the democratic process," she said.
Sheikh Hasina said, "The transparency and accountability that have been ensured in the election are the result of our (AL) movement and struggle."
Regarding the other political parties' opportunities of doing politics during the AL regime, she said, "In our time, all the parties are getting the chance to do their politics.  We've provided that facilities."
Referring to the BNP-era elections, the Prime Minister said that after the formation of the government by BNP with Jamaat in 2001, they committed all types of misdeeds such as murder, militancy, corruption, money laundering and so on in the country.
"If anyone remembers the elections of 2001 or the by-elections of Magura, Mirpur or Dhaka-10, then it is enough to see what happened in the name of elections during the tenure of BNP," she added.
She said that there were various misdeeds such as sealing the ballot boxes during their (BNP) tenure that is why transparent ballot boxes, voter list with pictures have been arranged.
Mentioning that BNP had registered 1.23 crore fake voters to hold election in 2006, she surprised that now they are speaking about democracy and moving to establish democracy.
Sheikh Hasina said that today Bangladesh is recognized as a role model for development all over the world although some people of the country don't see any development in their eyes.
"They don't like anything. They don't want a democratic government rather they like the undemocratic process as their value increases," she added.
She said that Bangladesh is moving forward and got that status again in the world because of the continuation of democratic trend after the 2008 elections.
Stating that she is working day and night for the country, Sheikh Hasina said, "A lot of criticisms had to be endured. . .the outsiders see the development that I have pulled Bangladesh where it is today. But, some people inside our country don't even see it in life, they won't see it. I don't know whether they get many advantages if there is another type of government."
"The welfare of the people of the country is our main goal," she said, adding after the election of 2008 when the Awami League came to power, the democratic process continued till 2022 and Bangladesh has improved much. "Otherwise there would not have been so much progress. We have been able to bring significant success in all areas starting from food production," she said.