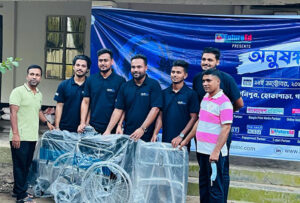 Moon Desk: To encourage young people to be more mindful, North South University Social Services Club (NSUSSC) has come up with an endeavor called 'ONUSHONGO' to spend a day with the senior citizens who are living in an old age home.
On October 14, the club members went to an old age home in Hotapara, Gazipur to express their appreciation and tenderness to the elderlies living there. A team of roughly 100 people from NSUSSC was there and spent the whole day with the residents. Additionally, as a gesture of respect, they gifted wheelchairs, walkers, and prescription drugs to the 220 inhabitants of the facility.
Ahammed Tahmid Zaman, the club president said that it is our moral obligation to treat our elderly with the respect and affection they deserve. He also said "We are reminded by the sad and lonely faces of these elderly people that we should fulfil our obligations towards our parents without treating them as a burden. So, the main purpose of this project is to encourage the younger generation to properly care for their parents". He also mentioned that the young club members will be inspired to plan other similar visits as a result of the peace and satisfaction they received from this project.