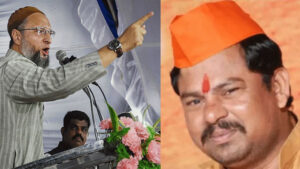 Md Nazrul: Telanga BJP MLA T. Raja Singh's made derogatory remarks against Prophet Muhammad (PBUH) which has sparked row in Hyderabad.
According to the reports, BJP MLA had posted a comedy video on YouTube channel named "Sree Ram, Telangana" in which demonstrators claim that he used abusive language toward Prophet Muhammad (PBUH). Protests broke out in the Old City Hyderabad following BJP leader's remarks.
The Police booked the BJP MLA under IPC section 295, 505 and153A at the Dabeerpura Police station. DCP South Zone P Sai Chaitanya said, "We request everyone to maintain law and order in the city.
We assure that stern action will be taken against Raja Singh. We have received multiple complaints against him from various Police stations under the Hyderabad Commissionerate." BJP suspended T Raja Singh after he was arrested for allegedly making derogatory comments against Prophet Muhammad (PBUH), which sparked protests in Hyderabad.
It is continuation of Nupur Sharma case for making similar derogatory statements on a television debate. It is official policy of BJP to emotionally and physiologically hurt Muslims.
AIMIM Chief Asaduddin Owaisi said, "Has it become their official policy that they aren't satisfied with Nupur Sharma and they are making other MLAs say things? People are angry. People have tears in their eyes. Why are they saying things like this about Prophet Muhammad (PBUH)? Our demand is that BJP should stop doing all this.
People can see how much you hate the Prophet." He added, "BJP doesn't want to see that there is peace in Hyderabad. They want to destroy the social fabric of India." Owaisi slammed PM Modi's silence on the issue, urged him to respond.
"Fight with us politically but not like this. If PM Modi and BJP don't support these comments, then they should react. I also condemn the slogans (Sar Tan Se Juda) that were raised and people should to not take law in their hands." Further, BahujanSamaj Party (BSP) President Mayawati termed the remarks "disgraceful" and asked if it was not the responsibility of BJP's leadership to restrain its people to maintain peace in the country.
In a tweet, he said, "The heated atmosphere across the country has not even cooled down completely over the controversial remarks by now-suspended Nupur Sharma. Now another BJP leader, Telangana MLA Raja Singh did the same kind of provocative act, which is disgraceful and utterly condemnable."