OIC reiterates continued support to Kashmiris in their struggle for right to self-determination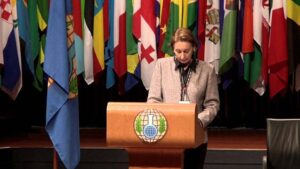 Moon Desk: The Organization of Islamic Cooperation's Permanent Representative to the UN office at Geneva, Ambassador Naseema Baghli, has reiterated the Muslim Body's continued support to the Kashmiris' just struggle for the right to self-determination.
Ambassador Baghli talking to a Kashmiri delegation that called on her on the sidelines of the ongoing 54th session of the UN Human Rights Council (UNHRC) in Geneva said that the OIC would spare no efforts in highlighting the Kashmir dispute at the international level.
She said, "OIC will continue to support Kashmir cause and will use all its effort to create awareness on the issue." She maintained that the OIC's Independent Permanent Human Rights Commission has been mandated to cover the human rights violations being perpetrated by Indian troops in Indian illegally occupied Jammu and Kashmir.
Ambassador Baghli said that voicing the OIC's concern through media and releasing report on the human rights situation in Kashmir was part of the policy.
On the occasion, members of the Kashmiri delegation, which was led by Altaf Hussain Wani, briefed Ambassador Baghli about the latest political and human rights situation in the occupied Jammu and Kashmir.
While seeking the Muslim Body's proactive role to bring an immediate end to the continued bloodshed and state terrorism by India in the occupied territory, the Kashmiri representatives said that it was high time that the OIC must take practical measures to address the precarious human rights situation in the region.—