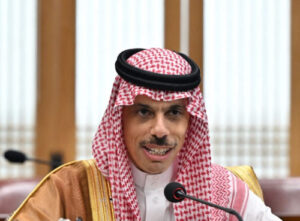 Moon Desk: The recent OPEC+ decision to reduce the oil cartel's output target by 2 million barrels a day was made for purely economic reasons, Saudi Foreign Minister Prince Faisal bin Farhan told Al Arabiya news channel on Tuesday.
Energy ministers from the oil-producing countries that are members of the group agreed the cuts, which will take effect next month, when they met on Wednesday last week.
"The decision of OPEC+ is purely economic and was taken unanimously by member states," Prince Faisal said.
"OPEC+ countries acted responsibly and took the appropriate decision. OPEC+ countries seek market stability and to achieve the interests of producers and consumers."
He added that Riyadh and Washington enjoy a strategic relationship that supports regional security.
"Military cooperation between Saudi Arabia and the US serves the interests of both countries and has contributed to the stability of the region," he said.
"Our relationship with the United States (has been) institutional since the relationship between the two countries was established."
Turning to the war between Russia and Ukraine, Prince Faisal said: "We seek to push the parties to the Ukrainian crisis to dialogue to end the conflict."
"The war does not affect Ukraine alone, but the whole world. We must find ways to stop the war in Ukraine," he said.
Closer to home, he said "efforts to extend the truce in Yemen are ongoing" and added that the Yemeni government has shown great flexibility and responsibility in its efforts to protect the country's interests.
"The Kingdom, the Coalition to Restore Legitimacy in Yemen, and the Yemeni government are keen to extend the truce in the country," Prince Faisal said.
The United Nations is pressing for an extended and expanded truce that would build on the two-month one that expired on Oct. 2 after being rolled over twice.
Regarding talks with Iran, the minister said they have not yet produced any tangible results and that the Kingdom is looking at entering into a sixth round of negotiations.
Speaking about efforts to revive the 2015 Iran nuclear deal, Prince Faisal said that any agreement must take into account the shortcomings of the previous accord.
"Any agreement with Iran must take into account regional security," he added.
On the subject of the relationship between Saudi Arabia and China, Prince Faisal said it is, firstly, economic and with this in mind the two countries have many joint projects in progress.
"China is a reliable partner and our relationship with the country is important as it has the second largest economy in the world," the minister said.
The minister also expressed his hope that Iraq will "overcome the political turmoil that is currently afflicting it."