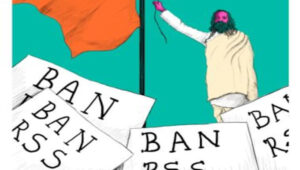 Md Nazrul: Several Opposition parties, including Rashtriya Janata Dal (RJD) and the Congress have demanded a ban on the Hindu extremist organization Rashtriya Swayamsevak Sangh (RSS), which is ideological fountainhead of the ruling Bharatiya Janata Party.
The demand for a ban on the RSS comes after Narendra Modi-led BJP government banned the Muslim organization Popular Front of India (PFI) for five years under draconian law Unlawful Activities (Prevention) Act on false charges. RJD Chief Lalu Prasad Yadav said, RSS is an extremist group that needs to be banned.
Congress leader and member of Indian Parliament Randeep Surjewala questioned the BJP for its stand on the RSS.
Karnataka Congress demanded a ban on the RSS saying that it is involved in 'anti-social activities'.
Deputy leader in the Karnataka Legislative Assembly and Congress MLA U.T. Khader stated that there should be equal action on those organisations, individuals who are indulging in spreading hatred, pitting one community against the other in the society, staging attacks on individuals.
RSS is the cause of all the evils happening in India to convert the country into Hindu Rashtra. It is a dubious organization perpetuating Hindutva agenda.
Various investing agencies and Police of several states have exposed their deeds. Hours after the Centre banned the PFI, several Opposition parties, including RJD and the Congress demanded a ban on the RSS, BJP's ideological fountainhead.
In the past, RSS has been banned several times for its involvement in terror incidents and for support dreaded terrorists like Murder of Mahatma Gandhi in 1948, RSS activist's widespread atrocities in East Pakistan (1971) to put brunt on Pakistan Army, Nellie Massacre Assam (1983), Babri Mosque demolition (1992), Gujarat Riots (2002), Samjhauta Express Bombing (2007), Malegaon Blasts (2008).
Details of recent event having foot prints of RSS and its allied organizations are like Delhi Riots (2020), Dharma Sansads, Jhangirpuri Riots (2022), Khargone Violence in MP (2022), Gandhinagar Violence Gujarat (2022), Gyanvapi Mosque Row, Qutab Minar Issue, Hijab Ban, Hilal Meat Issue etc.