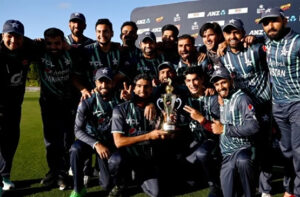 Sports Desk : Pakistan168 for 5 (Nawaz 38*, Rizwan 34, Bracewell 2-14) beat New Zealand 163 for 7 (Williamson 59, Rauf 2-22, Naseem 2-38) by five wickets
An audacious assault from Haider Ali and Mohammad Nawaz blindsided New Zealand and gave Pakistan the tri-series title in Christchurch. Their stand included smashing 33 in eight balls starting from the 15th over to offset a powerplay slowdown and help Pakistan chase down 164. Though Haider and Asif Ali holed out at the death, Nawaz coolly closed out the game for Pakistan for the second day in a row, along with Ifthikar Ahmed.
After having hit an unbeaten 45 off 20 balls at No.4 against Bangladesh on Thursday, Nawaz stepped up with an unbeaten 38 off 22 balls as a pinch-hitting No. 4 once again, offering Pakistan a great deal of flexibility for the T20 World Cup in Australia to immediately follow.
Pakistan were 74 for 3 in the 12th over when Nawaz and Haider got together. Michael Bracewell had completed another misery spell, picking up 2 for 14 in his four overs. Haider, however, launched the first ball he faced from Ish Sodhi for six and then combined with Nawaz to take 25 runs off Sodhi in the 15th over. From thereon, there was only one result possible, and that was Pakistan winning their last T20I before heading for the World Cup.
After New Zealand had been asked to bat, their captain Kane Williamson found form with a 33-ball half-century. However, Haris Rauf, who was featuring in his 50th T20I, handcuffed New Zealand in the end overs with his variations, coming away with 2 for 22 in his four overs. New Zealand managed only 33 for 4 in their last five overs, a passage of play which eventually proved decisive.