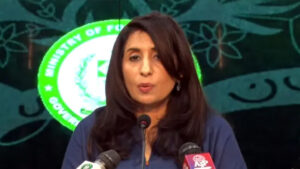 Md Jubair: Pakistan has expressed concern over the arrest and about the safety of senior journalist and human rights defender, Irfan Meraj and dozens of other Kashmiri journalists and human rights activists, including Khurrum Perviaz, languishing in prisons across India and Indian illegally occupied Jammu and Kashmir.
Foreign Office Spokesperson, Mumtaz Zahra Baloch, at her weekly press briefing in Islamabad, today, said they are prisoners of conscience who are being victimized for shining a spotlight on the dire situation of human rights and fundamental freedom in IIOJK.
She said, "We urge India to bring an end to suppression of journalists and human rights defenders and to its policy of stifling freedom of expression and assembly in the occupied territory."
The Foreign Office Spokesperson said Pakistan will continue to raise its voice against these grave and systematic human rights violations in IIOJK. Pakistan will also continue to extend its moral, political and diplomatic support to the Kashmiri brothers and sisters for the just and peaceful settlement of the Kashmir dispute.