Pakistan High Commission Dhaka emerges victorious in inter-Mission Cricket Tournament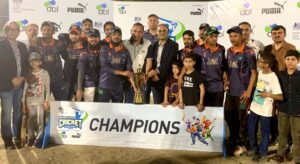 High Commissioner for Pakistan to Bangladesh, Mr. Imran Ahmed Siddiqui in the group photo with jubilant players of  Pakistan High Commission Cricket Team; the champion of Inter-Mission Cricket Tournament held in Dhaka on Friday (Supplied)
E Ex Correspondent: Pakistan High Commission Dhaka cricket team clinched the championship trophy in the inter-Mission cricket tournament held in Dhaka on Friday. The tournament organized by the British High Commission, Dhaka was participated by cricket teams from various foreign missions, including UK, US, EU, Australia, and Pakistan.
Pakistan High Commission Dhaka team remained unbeaten throughout the tournament, displaying remarkable sportsmanship and teamwork.
Pakistan High Commissioner, Mr. Imran Ahmed Siddiqui , who was Chief Guest of the event, distributed awards and trophies among the participating teams.
The High Commissioner acknowledged the performances of all the teams and praised their display of cricketing skills.
He appreciated the stellar performance of the Pakistan High Commission's team and congratulated the players for becoming the champion of Inter – Mission Cricket Tournament.