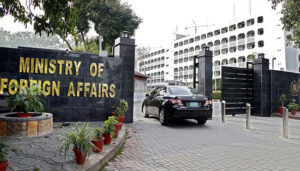 Qazi Mizan: The Foreign Office has slammed the head of the UN's nuclear watchdog for trying to downplay the incompetence and recklessness that led to India accidentally firing a nuclear-capable BrahMos missile at Pakistan in March.
IAEA Director General Rafael Grossi told an Indian newspaper that the incident was "not a cause of specific concern".
According to FO, this response may have been a mangled attempt to explain that IAEA does not have direct authority or mandate to respond to such an incident, but instead came across as sounding like the accidental launch of a nuclear missile was no big deal. The misspeak argument makes sense, considering that even India admitted at the time that the incident was "deeply regrettable" as it apologised to Pakistan in the days after the missile hit Mian Channu, fortunately without any harm to human life.
At the same time, the FO was disappointed by the IAEA's failure to even request information relating to the incident from India, noting that the watchdog had also not asked India to explain several incidents of nuclear and radioactive material theft and illicit trafficking over the past few years.
While Pakistan did initially complain about India's sluggish response, part of the complaint and related demands can be considered gamesmanship to the extent that much of the information would have fallen under India's military secrets laws. Still, what was clear was that India did eventually admit to a massive breach, which most countries try their best to avoid unless there is absolutely no face-saving excuse available.
At the same time, some in Pakistan remain concerned that despite India's decision to sack three air force officers for the incident, the men sent home may either have been scapegoats, or the entire exercise may actually have been an attempt to gauge Pakistan's response capabilities.
But while such a scenario seems unlikely, India still did not make any effort to engage Pakistan on the latter's request for a joint probe, which would have otherwise been seen as an olive branch of sorts.