Pakistan's permanent mission to OIC organizes special event on rights abuses in Kashmir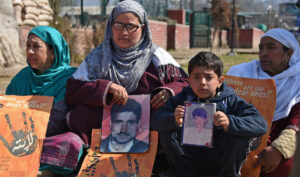 Moon Desk: The Permanent Mission of Pakistan to the Organization of Islamic Cooperation (OIC) in Jeddah organized a special event and photo exhibition this week to highlight "gross human rights violations" in Indian-administered Kashmir, the mission said in a statement.
In 2019, the OIC appointed a Special Envoy for Jammu and Kashmir and extended its support to the "legitimate right to self-determination" of the people of the region in accordance with United Nations resolutions.
Since 1947, the Muslim-majority region of Kashmir has remained disputed between India and Pakistan. Both countries claim it in full but only control parts of it. The two nations have also fought wars over the territory, and the conflict lingers on.
At Tuesday's event "to highlight the gross human rights violations" in Indian-administered Kashmir, attendees were briefed about the "magnitude of the humanitarian disaster taking place in the region."
Distinguished speakers included Secretary General OIC, Hissein Ibrahim Taha, who was the chief guest, Special envoy to Secretary General for Jammu and Kashmir, Yousef Al Dobeiye, Consul General Pakistan Jeddah, Khalid Majid, Pakistan's Permanent Representative to OIC, Fawad Sher, and Chairman Kashmir committee, Masood Puri.
In his address, Taha stressed the importance of finding a peaceful solution to the Kashmir conflict.
"He noted that his visit to Islamabad, during which he had the opportunity to visit the Line of Control [that divides the Indian and Pakistan governed parts of Kashmir], was of significant importance in this regard," a statement from the Pakistani side said.
"Taha urged all parties involved to work together in order to find an amicable resolution to this long-standing issue."
Consul General Majid highlighted the importance of the OIC taking a "preemptive role" to effectively respond to regional and global issues, while other panelists suggested that strong diplomatic measures were needed to restore peace and security in Indian-administered Kashmir "so that all citizens can enjoy their rights without fear or prejudice."
"They encouraged international agencies to engage with local humanitarian organizations to provide aid and resources where possible," the statement said.
With 57 member states and a collective population of approximately 1.68 billion people, the OIC is the world's second largest intergovernmental body after the UN.