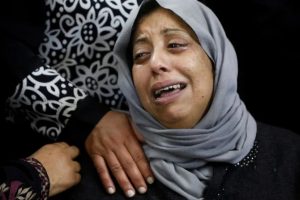 Israel announces plan to boost Gaza work permits
AFP, JERUSALEM: Palestinian man was killed Friday by Israeli forces during a raid in the north of the occupied West Bank, the Palestinian health ministry said.
Salah Sawafta, 58, "died of critical wounds, sustained by live bullets from the occupation (Israeli military) in the head, in Tubas this morning," a ministry statement said.
The Israeli military said soldiers came under fire during a raid in the town.
During an operation in "Tubas, several suspects hurled Molotov cocktails and opened fire at (Israeli) troops, who responded with fire," the army said in a statement, adding "hits were identified."
The mayor of Tubas, Hossam Daraghmeh, said Sawafta had been leaving dawn prayers when he was shot.
"He left the mosque and was heading to his house wearing a prayer robe. There was a vengeful soldier stationed in a building near the municipality who shot him in the head," he said.
Daraghmeh said Sawafta had been unarmed when he was hit.
"This man did not have a stone or anything in his hand," he said.
The Israeli military said five people were detained in overnight raids across the West Bank.
On Thursday, a 20-year-old Palestinian was killed by Israeli troops during clashes in the northern West Bank city of Nablus.
Meanwhile, Israel has occupied the West Bank since the Six-Day War of 1967, when it seized the territory from Jordan.
Israel said Friday it plans to grant more work permits to Palestinians in blockaded Gaza, reviving a pledge made ahead of a visit by US President Joe Biden but later scrapped.
A further 1,500 people from the impoverished and overcrowded Gaza Strip would be allowed to work in Israel from Sunday, the military said in a statement.
"The decision will take effect … on condition that the security situation remains quiet in the area," said COGAT, the Israeli defense ministry body responsible for civil affairs in the Palestinian territories.
The move to boost to 15,500 the total number of work permits was initially announced on July 12, on the eve of Biden's visit to Israel and the Palestinian territories.
But it was scrapped four days later, in the wake of rocket fire from the Gaza Strip and retaliatory strikes by Israeli warplanes.
The work permits provide vital income to some of Gaza's 2.3 million people, who have been living under a strict blockade imposed by Israel since the Islamist movement Hamas seized power in 2007.
Friday's announcement follows three days of fighting this month between Islamic Jihad militants and Israel.
At least 49 Gazans were killed and hundreds wounded, according to figures from the enclave's health ministry.
The plan to issue additional permits follows a decision by Hamas largely to stay out of the recent fighting.