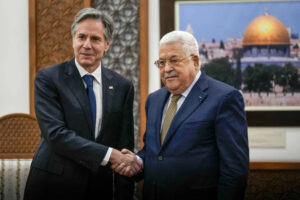 Moon Desk: Palestinian President Mahmoud Abbas blamed Israel on Tuesday for a sharp escalation of violence in the West Bank as US Secretary of State Antony Blinken urged calm on both sides and reaffirmed Washington's commitment to a two state solution.
US Secretary of State Antony Blinken shuttled from Israel to the Palestinians' West Bank on Tuesday, appealing for an end to resurgent violence and reaffirming Washington's backing for a two-state solution to the decades-long conflict.
Blinken is urging calm on both sides after last week's killing by a Palestinian gunman of seven people outside a Jerusalem synagogue and anger among Palestinians over actions by Israeli forces and settlers in the occupied West Bank.
He took that message into a meeting with Palestinian President Mahmoud Abbas in Ramallah, warning all parties against any action that could threaten a two-state solution, with an independent Palestinian state alongside Israel.
"We've been clear that this includes things like settlement expansion, the legalization of outposts, demolitions and evictions, disruptions to the historic status of the holy sites, and of course incitement and acquiescence to violence."
Blinken's first visit since Prime Minister Benjamin Netanyahu returned to power this month at the head of one of the most right-wing governments in Israel's history comes at a time of extreme tension between the two sides.
He said Palestinians were facing a "shrinking horizon of hope" that needed to change.
Amid rising anger at near-daily raids by Israeli forces in the West Bank, Abbas' Palestinian Authority (PA) suspended its security cooperation agreement with Israel last week after the largest incursion in years.
The operation saw Israeli forces penetrate deep into a refugee camp in the northern city of Jenin, setting off a gunfight in which 10 Palestinians died.
Bloody January: In January alone, 35 Palestinians have been killed in clashes with Israeli troops, in the bloodiest month since 2015, while officials say attacks on Palestinian property by Israeli settlers have also increased.
"The Israeli government is responsible for what is happening today, because of its practices that undermine the two-state solution and violate the signed agreements," Abbas said.
Blinken also highlighted US assistance to the Palestinian economy, which is heavily dependent on foreign aid.
He said the United States would provide an extra $50 million in funding through the United Nations and that agreement had been reached on providing high speed 4G telecoms services to Palestinians.
Before meeting Abbas, Blinken visited Deir Dibwan, a town near Ramallah that is home to many Palestinian Americans, and met civil society leaders and businesspeople.
Israeli Prime Minister Benjamin Netanyahu has reinforced troops in the West Bank and promised measures to strengthen settlements there, but so far held off from more extreme steps.
On Tuesday, Blinken met Israeli Defense Minister Yoav Gallant and discussed cooperation to stop Iran developing a nuclear weapon as well the situation in the West Bank.
Hopes of achieving a two-state solution, with a Palestinian state based largely in the West Bank, have all but disappeared since the last round of US-sponsored talks stalled in 2014.
The Biden administration has said it would reestablish a consulate for Palestinians shuttered by former President Donald Trump, but has yet to say when or where it will be opened.