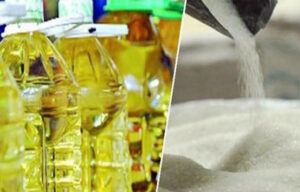 Moon Desk: The Ministry of Commerce on Thursday (Sept 22) reduced the price of palm oil by Tk 12 per litre following a recommendation of the Bangladesh Trade and Tariff Commission (BTTC).
The palm oil price was fixed at Tk 133 per litre which will be effective from September 25, said the Commerce Ministry in a circular.
Besides, the prices of packaged sugar and loose sugar were reduced by Tk 6 and Tk 8 per kg respectively.
Packaged sugar price was lowered to Tk 89, from Tk 95 per kg, while loose sugar price to Tk 84 per kg, which was Tk 92 earlier.
Earlier, the BTTC recommended setting the price of palm oil at Tk 133 per litre taking the price situation of the world market and import cost into consideration.
The Tariff Commission also believes that the price of soybean oil is reasonable at present.
The Ministry of Commerce announced the decision on August 30 last to fix the prices of rice, atta, flour, soybean oil, palm oil, sugar, lentil, MS rod and cement.