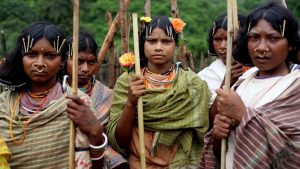 Moon Desk: Professional Assistance for Development Action has released a report titled "Status of Adivasi Livelihoods 2021".
The report highlights the difficulties and scarcity that the Adivasi population is currently facing in the country, which negatively affects their quality of life.
The report covers a variety of issues, such as how the cultural ethos of tribal communities shape their livelihood practices, the resources deficiencies, external interventions, other characteristics of the households such as food security, land ownership, income and literacy.
The report added, despite the rich crop diversity and the fact that Adivasi families reported growing a variety of 20 different crops, 25% of Adivasi and 19% of Non-Adivasi residents of Jharkhand experienced severe food insecurity.
Adivasi villages have less access to development amenities and facilities than non-Adivasi communities in the same geographic area, including all-weather roads, telephones, educational facilities, health infrastructure, etc.
The condition of Adivasi communities in different levels of education including primary, middle, and matriculation and above secondary is miserable and much worse than the non-Adivasi population.
The report has also raised serious questions regarding the idea of development under the state's imagination and its consequences.
A prominent Adivasi environmentalist and social worker Simon Oraon Minj, said, "None of the government schemes is successful in benefiting the Adivasi people.
Adivasi people can be their own engineers for the development of their villages." Archana Soreng, a well-known Adivasi activist from Odisha said, "Imposition of development worldviews from outside might have changed our relationship with nature.
But the change in economic occupation (due to external pressure) will not decide whether we are Adivasi or non-Adivasi. Our identity is way more rooted."