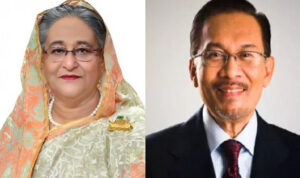 Moon Desk: Prime minister Sheikh Hasina has congratulated new Prime Minister of Malaysia Anwar Ibrahim.
ABM Sarwar-e-Alam, the press secretary to the prime minister confirmed the matter on Friday morning.
Malaysia`s perennial opposition leader Anwar Ibrahim, 75, was sworn in as prime minister before the king in Kuala Lumpur Thursday November 24), ending a five-day political impasse after inconclusive polls.