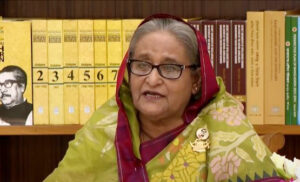 Moon Desk: Prime Minister Sheikh Hasina on Friday issued a message paying tribute to the memory of Ziaur Rahman Patwari Raju, a hero of Chandpur who embraced martyrdom during the mass uprising and anti-autocracy movement in 1990.
"I sincerely salute and thank all those associated with 'Shaheed Raju Smrity Sangsad' for taking the initiative to publish the memorial book 'Sahosik' paying tribute to the memory of martyred Ziaur Rahman Patwari Raju who is the heroic son of Chandpur," she said in her message marking the publication of the memorial book 'Sahosik'.
The greatest Bangalee of all time, Father of the Nation Bangabandhu Sheikh Mujibur Rahman struggled throughout his life for the liberation of the exploited and deprived people of this country, the premier said.
Jail, oppression and torture by Pakistani exploiters could not divert him from the path of democratic movement, she added.
"Under his far-reaching and strong leadership, we have achieved independent and sovereign Bangladesh in exchange of the sacrifice of 30 lakh martyrs and the honor of two lakh mothers and sisters," she said.
She further said that Bangabandhu had created a distinct identity for the Bangalee nation and in just three and a half years, he reconstructed the war-torn country and upgraded it to a least developed country.
She mentioned that she started fighting to change the fate of the people of this country after returning to her country on May 17, 1981.
"I led the movement to restore democracy by ending the dictatorship in the country. How many fresh lives have been lost in the struggle to restore democracy cannot be counted. In 1990, the anti-autocracy movement arose. Many people sacrificed their lives by participating in this movement and the dictatorial government fell," she added.
Ziaur Rahman Patwari Raju, a meritorious HSC student of commerce department of Chandpur Government College and Chhatra League leader, was also martyred in this movement, she said.
She also remembered all the martyrs of the democratic movement of Bangladesh including Shaheed Raju.
She hoped that the book 'Sahasik' published in memory of Shaheed Ziaur Rahman Patwari Raju will inspire the new generation throughout the ages as a shining document of self-sacrifice to restore democracy in the country.
The premier wished all the success of the programmes taken on the occasion of the 32nd martyrdom anniversary of Shaheed Ziaur Rahman Patwari Raju.