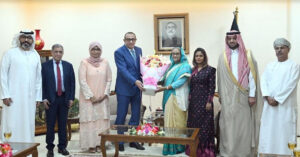 Diplomatic Correspondent: Prime Minister Sheikh Hasina on Tuesday urged the Muslim nations to collectively stand over Palestinians cause saying since its 1971 emergence Bangladesh's stance on the issue remained very firm, as envoys of seven OIC member states jointly made a courtesy call on her.
"Father of the Nation Bangabandhu Sheikh Mujibur Rahman supported Palestine and I also have been standing beside the Palestinians," Prime Minister's speech writer Md Nazrul Islam quoted her as saying in a media briefing after the meeting at the PMO.
She added: "Muslim Ummah should collectively stand by the Palestinians".
The seven emissaries are Algerian Ambassador Rabah Larbi, Malaysian High Commissioner Haznah Md Hashim, Maldivian High Commissioner Shiruzimath Sameer, Oman's Ambassador Abdul Ghaffar Bin Abdul Karim Al-Bulushi, Palestinian Ambassador Yousef SY Ramadan, Saudi Arabian Ambassador Essa Yousef Essa Alduhailan and UAE Ambassador Abdullah Ali Abdullah Khaseif Alhmoudi.
The PMO spokesman said the envoys of the Organisation of Islamic Cooperation (OIC) member countries highly appreciated Sheikh Hasina's leadership for the last 14-year yielding Bangladesh's development and stability, particularly tackling the Covid-19 pandemic successfully.
According to the Nazrul Islam, the emissaries expected that Bangladesh would stay well and remain happy under her leadership and conveyed her that the Muslim Ummah was also happy and proud of her.
They also expressed hope that the progress of Bangladesh would continue under the leadership of Sheikh Hasina and wished her success in the next general election.
Around seven million Bangladeshis are currently working in the Middle Eastern countries, also OIC members, while the envoys said they were contributing a lot to those economies.
The prime minister said a neutral election commission was constituted through enactment of a new law and added that the election scheduled for January 2024 would be fair.
Sheikh Hasina said if the people vote for her, she would come in power again and "otherwise not as I believe in the power of the people".
She has been working not for herself rather for the country and its people, the prime minister said, adding that her goal is to make the socio-economic development of the countrymen.
The premier said the government is working to ensure houses for all homeless and landless people. "Now in the final phase, some 40,000 houses are being constructed. Nobody will remain homeless and landless after distribution of these abodes," she added.
Prime Minister's International Relation Affairs Adviser Professor Dr. Gowher Rizvi, Ambassador-at-large Mohammad Ziauddin and Prime Minister's Principal Secretary M Tofazzel Hossain Miah were present.