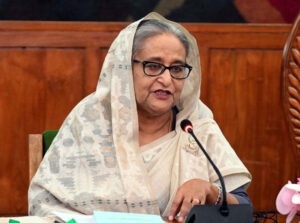 BSS, Dhaka: Prime Minister Sheikh Hasina today stressed the need for collective global efforts for building a prosperous world through Multilateral Development Banks (MDBs).
"Let's work together to build a prosperous and poverty and hunger-free world by supporting the poor people through MDBs," she said. The Premier said this in her pre-recorded video keynote speech at the ECOSOC (Economic and Social Council) panel discussion titled "Development Cooperation: Long-term Resilience and the Role of Multilateral Development Banks" held at the UN Headquarters in New York in the USA.
"I acknowledge the role of ECOSOC in supporting the financing facilities towards successful implementation of the 2030 Agenda," she said.
The Prime Minister said the world economy is now passing through multiple challenges due to the COVID-19 pandemic and the staggering impacts of the Russia-Ukraine war. "At this complex global context, development cooperation has become very crucial in building resilience of the vulnerable segment of the global community and addressing the multi-dimensional crises," she said.
"We strongly believe that MDBs can play an important role in bringing a positive change to the critical global scenario," she continued.
The Premier said financing from MDBs will foster multi-party dialogues to address pressing global issues and advance policies that will ensure financial support in achieving the SDGs. This is in accordance with its mandate specified in the 2015 Addis Ababa Action Agenda, she said. MDBs have to play a critical role in promoting global public goods, such as healthcare, education, and technology. These have a significant impact on sustainable development, she opined. The Premier said MDBs are uniquely positioned to provide technical assistance and knowledge to developing countries, including LDCs, and help them build capacity and promote sustainable development.
"While working towards building resilience in developing countries, we must also admit their ability to explore their full potentials. These include financial inequalities, digital divides and development divides. The focus should be on building long-term resilience through sustainable and equitable development," she said.
The Premier said they observed that the interest rates and service charges of MDBs are increasing and such measures are pushing the developing countries into further tight spots.