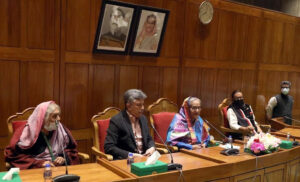 MOON Desk: Prime Minister and Awami League President Sheikh Hasina would nominate the party candidate for the presidential election.
The Awami League Parliamentary Party (ALPP) in a meeting held at the Jatiya Sangsad Bhaban on Wednesday evening has given power to the Prime Minister and the party chief to nominate its candidate for the upcoming presidential election.
AL General Secretary and Road Transport and Bridges Minister Obaidul Quader came up with the update after emerging from the meeting.
"A proposal regarding to give the authority to the party chief Sheikh Hasina to nominate Awami League's candidate in the presidential election was placed in the meeting and the proposal was unanimously accepted. Now Prime Minister Sheikh Hasina, the symbol of unity, will put an end to all the speculations to this end," he said.
The Awami League candidates will submit their nominations on the last day of submission of nomination papers for the presidential post on February 12.
The Prime Minister in her speech at the meeting asked the AL lawmakers to make interactions with the people and showcase the development works carried out by her government in the last 14 years after going to their constituencies.
She vowed to continue the development works, asking her party leaders and activists to seek vote for the boat, the election symbol of the AL, in the next election.
Prime Minister Sheikh Hasina, Parliament Deputy Leader Matia Chowdhury, Chief Whip Noor-e-Alam Chowdhury and Awami League General Secretary Obaidul Quader, spoke on the occasion.