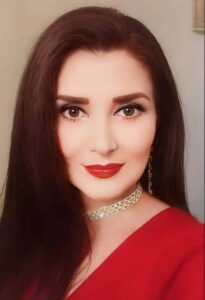 The poem that I didn't write to you
Will destroy me inside of myself.
When I die it will fill into my spirit
And will leave inside of my body.
I shall leave injustice on my shoulders,
Neither the soil nor stone will know.
The spring and winter that I found in my love
Won't be back forever.
The familiar faces of my friends
Will disappear in front of my eyes.
After you my spirit will look for
The word being worthy to you.
The poem that I didn't write you
Will go down into the grave in secret.
You also won't shed tears
To the poem that didn't come to life.
INSIDE ME THERE IS LOVE EVEN TO A STONE
Again my eyes shivered,
How cold your looks are!
Your words as if are frozen,
There is no warmth in your words.
Ices have been hung from your eyelashes
Snow has been spread on your hairs.
As if the cheeks of the winter
Have been kissed by your lips.
You made my spirit to be cold,
Your heart is ice, your hands are snow.
Don't worry that you are so cold,
Inside me there is love even to a stone.
WE WERE NOT CREATED FOR EACH OTHER ere not created for each other
We are human beings of two different worlds,
It is dark in one world, it is light in other one.
Two different hearts, two different opinions,
We were not created for each other.
My wishes are like sailless ship,
Your waves can't push me.
This love may become a grief like a parting,
We were not created for each other.
I don't want the heat of love scorch you
I can't bear the flames of love.
Who heard summer and winter united?
We were not created for each other.
I think all people on my way are angels,
But for you all people around you are tricksters.
What is the use of deceiving yourself?
We were not created for each other.
Each of us has different spirit, let's not be divided
Let's not shove each other on the train of life.
Let's not set a road the end of which is seen beforehand
We were not created for each other.
Tarana Turan Rahimli is an Azerbaijani poetess, writer, journalist, translator, literary critic, teacher, academic, is an active member of the International Literary Agency in Turkey, Azerbaijan, Azerbaijan, Philippine, Kazakhstan, İtaly, Oman, Belgium, USA. Tarana Turan Rahimli was born into an educated family on February 20, in 1970, in Baku, the capital city of Azerbaijan.
She is a PhD in Philology, Associate Professor, author of 8 books and more than 500 articles. She is the editor and reviewer of 30 monographs and poetry books. Her works have been published in more than 45 Western and Eastern countries. Her poems were published in Azerbaijan, England, Italy, Spain, Serbia, Syria, Slovakia, USA, Germany, Belgium, Bangladesh, Chile, China, Oman, Turkey, Turkmenistan, Russia, Grecia, Romania, India, Portugal, Saudi Arabia, Ukraine, Kazakhstan, Japan, Uzbekistan, Kyrgyzstan, Macedonia, Mexico, Morocco, Kosovo, Bosnia and Herzegovina, Venezuela, Vietnam and in other countries. Including her poems and articles have been published in many international sites around the world, on periodicals and in anthologies.
She is works have been translated into more than 30 languages, he has received up to 20 international awards, more than 150 honorary degrees, certificates, diplomas and other awards. Graduated from the Faculty of Philology of the Azerbaijan State Pedagogical University (1995). In 2004 he defended his PhD dissertation of philological sciences, and in 2021 he defended his doctoral dissertation in philological sciences. She has been an Associate Professor since 2011.
Translator: Sevil Gulten