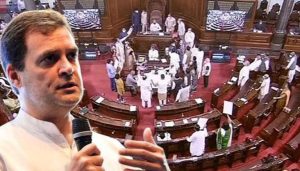 Moon Desk: Due to criticism on RSS backed Modi government; Congress leadership is under political vendetta. Rahul Gandhi and Sonia Gandhi have given a message to the country that we will not compromise, we will fight on the basis of ideology.
Congress Chief Sonia Gandhi is being questioned by Enforcement Directorate (ED) in the National Herald case.
Amidst countrywide protests, the party has alleged police high handedness. Prominent leaders like Sachin Pilot, Shashi Tharoor, Randeep Singh Surjewala, Nana Patole and several other ground workers were detained by Police across states.
It has also slammed the agency's action against its top leadership as "political vendetta". Congress General Secretary Jairam Ramesh Tweeted, "This high-handedness was only to be expected and reflected the mindset of the Modi Sarkar."
Ramesh had said on Wednesday that the Congress will stage demonstrations across the country in "a most telling manner" against what he described as political vendetta.
Congress MP Manickam Tagore has given a notice of adjournment in the Lok Sabha, seeking a discussion on the alleged misuse of the Enforcement Directorate and "targeting of innocent opposition leaders."
Former Rajasthan Deputy Chief Minister Sachin Pilot alleged that investigative agencies are being misused by the ruling BJP.
He alleged, "The manner in which 6-7 years-old cases against Sonia Gandhi and Rahul Gandhi were taken up, it is evident that politics of putting pressure on political opponents is being played."
Chhattisgarh Chief Minister Bhupesh Baghel said, charges of money laundering against the Gandhi family were "baseless" and Sonia Gandhi and Rahul Gandhi have been "falsely implicated."
BJP wants to tarnish the image of the Gandhi family and Congress party that's why they're hatching such conspiracies.