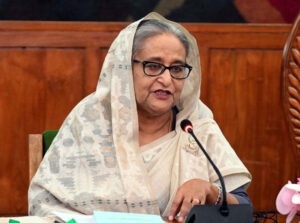 Moon Desk: Prime Minister Sheikh Hasina on Monday said an election-time government could be formed with the parties in parliament although the next general election will be held in the country following the Westminster democracy of Britain.
"We follow the Westminster type democracy. We'll hold the election as Britain does… Yes, we can show our liberality if anyone of the MPs (parties) in parliament expresses desire to join the election-time government. We are ready to welcome them," she said.
The premier made this remark while addressing a press conference to brief the media about the outcomes of her recent tri-nation visit to Japan, the United States and the United Kingdom from April 25 to May 08, at Ganabhaban this afternoon.
Mentioning that her party Bangladesh Awami League (AL) had shown such liberality earlier too, Sheikh Hasina said that before the national election in 2014, Khaleda Zia was asked to give her party's representation in that election-time government, but they didn't do that.
She added: "Now they (BNP) are not in parliament. So, there is nothing to think about them," she said.
Sheikh Hasina, also the president of Bangladesh Awami League, said that she has been working for the welfare of the people and if the people vote for her, she will stay in power, otherwise not.
AL General Secretary and Road Transport and Bridges Minister Obaidul Quader, AL Presidium Members – Deputy Leader of the House Begum Matia Chowdhury, Sheikh Fazlul Karim Selim and Engineer Mosharraf Hossain – Planning Minister Abdul Mannan and PM's Private Industry and Investment Adviser Salman Fazlur Rahman, were present on the dais.
PM's Press Secretary Ihsanul Karim moderated the press conference.