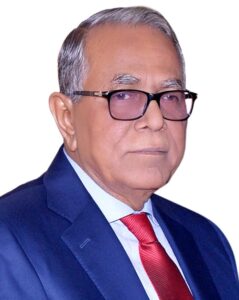 DU Correspondent: President M Abdul Hamid on Friday hoped that the fresh graduates and researchers of Dhaka University will be able to make the maximum contribution to building a prosperous country as well as the world. "At the same time, Dhaka University will also maintain its continuous success in achieving academic excellence through its convocation. I wish the fresh graduates a bright future," the head of the state said.
The president said these in a message issued on the occasion of the 53rd convocation of the Dhaka University (DU), the oldest university in Bangladesh, to be observed tomorrow.
Hamid hoped the DU graduates will work for the welfare of the country with devotion and honesty with patriotism, human values and creativity.
There is a dire need for a young generation with humane values in today's pandemic and war-ridden world, he added.
Describing Dhaka University, also known as the Oxford of the East, as one of the largest educational institutions in the country, he said Father of the Nation Bangabandhu Sheikh Mujibur Rahman dreamt of the liberation of the common people of the country from this institution.
From the great language movement to the Liberation War, the students of this university had led all democratic movements and struggles and in every field of socio-economic development of the country, the president added.
He mentioned that the name of Dhaka University is closely related to the history, tradition and culture of Bangladesh.
Noting that many students and teachers of Dhaka University sacrificed their lives in the Great War of Liberation, Hamid paid deep respect to the memories of those brave martyrs.
The president hoped that the current and former teachers and students of the university will play a more-effective and positive role in building a science-oriented and humanitarian nation being inspired with the spirit of the great Liberation War.
The head of the state wished the 53rd convocation of Dhaka University a success.