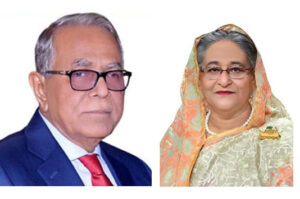 Moon Desk: President M Abdul Hamid and Prime Minister Sheikh Hasina on Friday greeted all concerned including advisers, patrons, guardians, children and teenagers of the Banglabandhu Shishu Kishore Mela marking its 8th national conference beginning tomorrow.
On the eve of the day, they issued separate messages to this end wishing the 8th national conference of Bangabandhu Shishu Kishore Mela (BSKM) a success.
President Abdul Hamid in his message said: "Bangabandhu Shishu Kishore Mela is one of the children's organizations established in 1990 in the name of Father of the Nation Bangabandhu Sheikh Mujibur Rahman."
With the aim of realizing Bangabandhu's dream and nurturing the new generation in the spirit of the liberation war, the organization is doing commendable work in developing the talent of children and teenagers through nationwide cultural activities, he said.
The head of the state hoped that Bangabandhu Shishu Kishore Mela will continue to play a leading role in creating ideal citizens.
Prime Minister Sheikh Hasina, in her message, said: "The greatest Bangalee of all time, Father of the Nation Bangabandhu Sheikh Mujibur Rahman, loved children very much."
"Bangabandhu had immense compassion for children. He included special provisions in the constitution regarding the responsibilities and duties of the state for the welfare of children," the premier added.
In 1974, he enacted the Children Act and made primary education compulsory, she said.
By following the ideals of the Father of the Nation, Bangladesh is moving forward, she said.
She added that Awami League-led government is taking and implementing various initiatives for the welfare of children.
'World Children's Day' and 'Child Rights Week' are being observed at the national level to protect the rights and safety of children, said Sheikh Hasina.
The National Children Policy 2011, the Children Act, 2013 and the Child Marriage Restraint Act, 2017 have been formulated, the premier continued.
"Let us devote our present time to the welfare of children," she urged.
She hoped that the Bangabandhu Shishu Kishore Mela will also join the journey of building a developed and prosperous Bangladesh.
"With the collective efforts of all and with these children and teenagers, we will be able to build a hunger-poverty-free and developed 'Sonar Bangladesh' as dreamt by the father of the nation, Insha Allah," she continued.