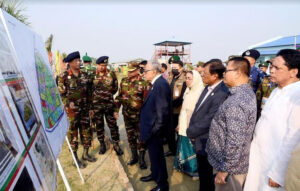 Moon Desk: President M Abdul Hamid on Friday witnessed the progress of the construction work of 'Mithamain Cantonment'.
Prime Minister Sheikh Hasina is likely to inaugurate the cantonment on February 28.
"The prime minister will open the newly constructed 'Mithamain Cantonment' very near to the ancestral residence of President Abdul Hamid in Mithamain of Kishoreganj on February 28," said a Bangabhaban spokesman on Friday.
Earlier, on his arrival in the cantonment area under Mithamain upazila, Principal Staff Officer (PSO) of the Armed Forces Division Lieutenant General Waker-Uz-Zaman welcomed the President.
The President, also the Commander-in-Chief of the armed forces division, was also apprised of the overall progress of the construction by him.
Lawmakers Rezwan Ahammad Taufiq and Md Afzal Hossain, President's Office Secretary Sampad Barua, Military Secretary Major General SM Salahuddin Islam, Press Secretary Md Joynal Abedin and Secretary (Attached) Md Wahidul Islam Khan accompanied the head of the state at the time.
The President went to Kishoreganj on February 15 on a three-day visit to oversee some ongoing development projects at his native district and exchanged views with the local representatives and professionals at three upazilas – Mithamain, Itna and Astagram.
The head of the state returned to Dhaka on Friday evening.