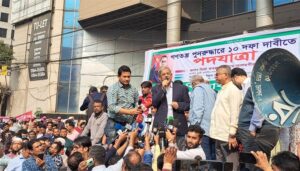 Staff Correspondent: Terming their road march program a new form of anti-government movement, BNP secretary general Mirza Fakhrul Islam Alamgir on Saturday called upon the government to quit power immediately to avert a shocking ouster.
He said: "We started a new movement on Saturday through this silent protest in Dhaka city. Through the silent march together with people we'll force this terrible, monstrous government to quit power," reports UNB.
In a brief address prior to launching the march program in the city's Badda area, the BNP leader also said they want to send out a message to the government through the fresh program to hand over power to a caretaker government with immediate resignation and empower the people to exercise their right to vote under a new Election Commission.
"Otherwise you will have to face a very shocking ouster and you won't find a way to escape," he warned.
As part of the party's four-day program, BNP leaders and activists marched towards the capital's Abul Hotel area in Malibagh from Badda's Suvastu Nazar Valley market to press home their 10-point demand, including holding the next general election under a non-party caretaker government.
Fakhrul formally inaugurated the program around 2:30 pm which ended peacefully around 4pm after parading over a four-kilometre stretch of the road.
He asked the party leaders and activists to hold the program peacefully without responding to any provocation. "We've so far held our all programs peacefully and we'll ensure their (govt's) fall through the peaceful agitations."
Accusing the government of snatching people's voting rights, the BNP leader said they will restore the voting rights of people by ousting the Awami League government.
"No fair election will be held as long as Awami League is in power. So, the Awami League government must hand over power to a caretaker government by quitting power and dissolving parliament so that people can cast their votes under a new Election Commission," he said.
Fakhrul said people will elect their representatives and the government with their votes through a credible election under a non-party administration. "That elected government will run the country."
He bemoaned that people are struggling to get by as the prices of all essential commodities, including rice, oil, salt and eggs, have gone up unusually.
The BNP leader alleged that people now cannot raise their voices against the government due to repressive acts. "The opposition leaders and activists are being arrested and sent to jail by implicating them in false cases and fictitious cases. They (govt) have turned entire Bangladesh into a prison."
Claiming that their party's around 35 lakh people have been facing political cases, he said all these cases must be withdrawn and all the arrested leaders and activists will have to be released for a fair and inclusive election in the country.
Earlier on Thursday, BNP announced the four-day march program in the capital for January 28, 30, 31 and February 1.
Dhaka North City BNP will also march from Gabtoli to Mirpur-10 intersection on January 31.
Besides, Dhaka South City BNP will march from Jatrabari to Shyampur on January 30 and from Mugda to Malibagh on February 1.