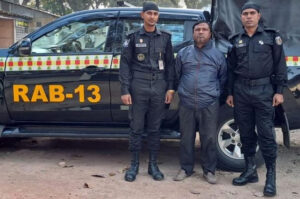 Moon Desk: Rapid Action Battalion (RAB)-13 arrested a presumed fraudster on charges of realising Taka 70 lakh from 30 people promising jobs from Kulaghat Bazar in Sadar upazila of Lalmonirhat district on Monday.
The detainee was identified as Md. Wahed Ali, 55, son of Md. Haider Ali of village Dhairkhata in Sadar upazila of Lalmonirhat district.
"On the basis of allegations lodged by several victims with different police stations in Kurigram, Lalmonirhat and Bhola districts, RAB-13 enhanced intelligence activities and arrested him from Kulaghat Bazar," said a press release issued here today.
During preliminary interrogation, the detainee admitted that he had been cheating people of different districts promising jobs by realigning  huge money from them for a long time.
"The arrested person was handed over to Nageswari police station in Kurigram district for taking further legal actions against him," the release added.