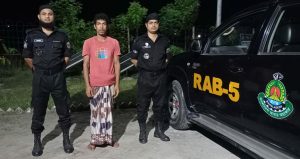 C'nawabganj Correspondent: RAB raided Chapainawabganj Sonamsjid border and arrested Shamim (40) along with a large amount of fake Indian rupees. He was involved in the expansion of counterfeit money business in Simante.
The arrested person is Shamim, son of Pardilalpur village of Shibganj Shahabajpur UP, son of Munsur Ali and Mata Lalmon Begum. RAB confirmed this.
On Thursday (August 18) at 10 o'clock in the evening, Shahabazpur UP, Shibganj, in front of the Sonamsjid Degree College gate, an operation was conducted under the leadership of Company Commander Lt. Commander Ruh-Fi-Tahmin Taukir, and 1 lakh eighty-seven thousand five hundred fake Indian rupees and 11 thousand 950 Bangladeshi Taka were seized. He was arrested red-handed with fake money.
According to the press release of Rajshahi CPC-1 Chapainawabganj Camp RAB-5, the arrested Shamim was cheating the common people along the border and as his house is in the border area of ​​Sonamsjid, Indian rupees are in circulation for the cow traders. He used this opportunity to trade fake notes from India and Bangladesh through active circles.
The notification also said that in the case of the seizure of Indian fake rupees and Bangladeshi fake money, the transfer of evidence and filing of case is under process at Shibganj police station of the district.