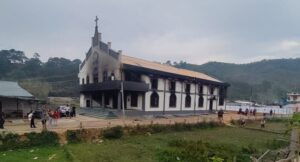 MOON Desk: The United Christian Forum of North East India (UCFNEI) has expressed anguish over the ongoing large-scale violence, arson, loss of life, and demolition of property, including the desecration of religious places in Manipur.
Manipur has been on the boil since the BJP-led government launched an eviction drive to clear forests and protected areas of poppy and cannabis cultivation. Things escalated after a tribal organization carried out a solidarity rally against the demand of a section of the non-tribal Meitei people to be included in the Scheduled Tribe list.
Expressing deep pain and concern over the unrest, the UCFNEI urged all the communities involved to exercise restraint and work towards a peaceful resolution of their issues.
"As a Christian organization, we believe in the value of human life and the importance of respecting the dignity of every individual. We call on all members of society to refrain from engaging in violent acts and to instead engage in peaceful dialogue to address their concerns," the forum said in a statement.
"We extend our condolences to the families of those who have lost their lives in this unrest and call on the authorities to take appropriate measures to bring the perpetrators to justice. We also call on the government to take steps to address the underlying issues that have contributed to this situation and to work towards a lasting solution," the forum said.
Christian organizations have claimed that at least 14 churches have been vandalized or razed in the Imphal valley, while non-tribal organizations claimed a few temples, including a 1st-century temple dedicated to Shiva, were set on fire in some hill districts.