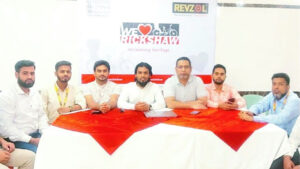 Moon Desk: REVZOL Lubricants and CDM UK Manchester jointly launched the social campaign programme "We Love Rickshaw" to promote the history, tradit ion and cultural heritage of paddle rickshaws of Bangladesh. An official launch programme of this campaign was held in Dhaka on August 30.
This campaign programme was inspired by the Rickshaw Project of Manchester Museum UK, which is procuring two paddle rickshaws from Bangladesh as part of its newly built South Asia Gallery. REVZOL Lubricants has become the Lead Sponsor for the Rickshaw Project, while the other sponsors include Creative Design & Manufacture UK (CDM UK) Manchester, British Council, National Lottery Heritage Fund UK and Bangladesh Garments Manufacturers & Exporters Association (BGMEA).
The launch programme was conducted by Mosaddek Hussain, CEO of MEDCO and Chief Coordinator, "We Love Rickshaw" social campaign. Guest speakers included multi award winning textile entrepreneur Taslima Ahmad, Founder & Creative Director of CDM UK Manchester, who spoke via phone from the UK, and Md. Farhaduzzaman, Marketing Asvisor, REVZOL Lubricants.
The speakers expected that this newly launched social campaign "We Love Rickshaw" would contribute towards encouraging cultural exchanges and dialogues about paddle rickshaws and other cultural heritage issues amongst communities at local, national and international level.