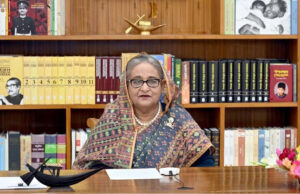 Staff Correspondent: Prime Minister Sheikh Hasina on Wednesday said Bangladesh should formulate a roadmap considering its geo-strategic advantage to make the country an aviation hub.
"Reaping on the dividend of our geo-strategic advantage, we should create a roadmap as to how we can make our country as an Aviation Hub," she said in a video statement aired in the inaugural session of the first edition of Aviation Summit in Dhaka.
The Civil Aviation and Tourism Ministry, in collaboration with the UK and France, organised the "Bangladesh Aviation Summit-2023" at a city hotel.
The prime minister described the summit as very significant for Bangladesh as it has aspiration to become an aviation hub in the region.
She said Father of the Nation Bangabandhu Sheikh Mujibur Rahman undertook measures to turn the country into an 'Aviation Hub' to connect the East and the West capitalizing the advantage of Bangladesh's geographical location, just after achieving the membership of ICAO in 1973.
The premier said the move was halted immediately after the assassination of the Father of the Nation in 1975.
"We have undertaken several measures to support the development of an aviation hub. During the last one decade, we implemented a host of projects to upgrade our airports, airport security and ground handling," she said.
As part of the move to make Bangladesh as an aviation hub, Sheikh Hasina asked the concerned government organisations, the airlines and other stakeholders to carry out their responsibility to create conducive environment for the development and sustaining market both for passengers and cargo.
"The government is going to introduce e-visa system which will also facilitate and expedite the flow of passengers visiting Bangladesh for business or tourism," she said.
Promising aviation industry requires skilled manpower, she said, adding, "Our youth must have the opportunities to be trained to become pilots, aeronautics engineers, mechanics, crew members and much more."
The premier hoped that Bangabandhu Sheikh Mujibur Rahman Aviation and Aerospace University, established by her government, would be able to cater the demand of skilled manpower in the country's aviation and aerospace industry.
She said the aviation industry has to lead by example in tackling climate change and strive to meet SDGs.
De-carbonation and sustainable aviation fuel are topics which will require investments, concrete actions and the support from developed aviation nations, she also said.
"The aviation partnership proposed by the UK and France, through Airbus, to support us in our journey is very crucial," she opined.
Besides, a number of projects are running which include HSIA Expansion Project (Phase-I), Construction of General Aviation Hangar, Hangar Apron and Apron at North side of Fire Station at HSIA; Strengthening of Existing Runway and Taxiway at Shah Amanat International Airport, Chattogram; Development of Cox's Bazar Airport (Phase-I), Cox's Bazar Airport Runway Extension Project; Strengthening of Existing Runway and Taxiway at Osmani International Airport, Sylhet; and Enhancement of Capacity of Civil Aviation Authority of Bangladesh on Public Security at HSIA, she added.
The third terminal being constructed under HSIA Expansion Project (Phase-I), will create handling capacity of additional 12 million passengers and 4 million ton cargos, she said.
Sheikh Hasina said, "The transformation of our economy helped boost the travel opportunities for our people and open up new routes and markets for our airlines".
When Bangladesh will turn into an Upper Middle Income Country by 2031 and a developed country by 2041, the aviation market will be further expanded, she said.
The premier said as the economy of Bangladesh has grown, so has the importance of air cargo.
"The air cargo market of Bangladesh is rapidly growing at 8 percent per year – three times the world average. This underlines the strong demand for a dedicated national cargo operation in our country. With all of this in mind, there are areas where aviation actors need to do more," she said.
PM's Private Industry and Investment Affairs Adviser Salman Fazlur Rahman, State Minister for Civil Aviation and Tourism M Mahbub Ali and British MP Rushanara Ali, among others, spoke at the summit.