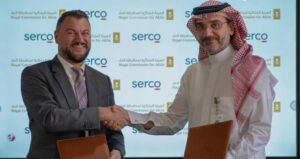 AN, MADINAH: The Royal Commission for AlUla has signed an agreement for Serco Group, a British company that primarily operates as a contractor for the provision of government services in various countries, to provide consulting services for the management of infrastructure services in AlUla.
Moataz Kurdi, the head of the commission's operations sector, said the deal includes consultations on the design and implementation of an infrastructure-services strategy, along with support for implementing its master plan. Serco will also deliver a facility-management plan that forms the basis of operations in AlUla governorate.
The agreement will help to improve the quality of operations and facilities in a way that is compatible with the natural environment of AlUla and its historical sites, Kurdi added, as well as the commission's objective of achieving comprehensive sustainable development in line with the aims of Vision 2030.
Serco Middle East CEO Phil Malem said he is looking forward to helping the commission achieve its objectives by providing strategic and operational services that will contribute to the vision for AlUla.
The commission has adopted a sustainable approach to its work through the implementation of a number of programs and initiatives. They include A Journey Through Time, a scheme launched in April 2021 that aims to promote AlUla as a global destination for culture, natural heritage and ecotourism, and as a desirable place to live and work.