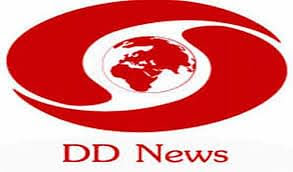 MOON Desk: In a sign of the times, India's public broadcaster Prasar Bharati will now entirely rely on the Rashtriya Swayamsevak Sangh (RSS)-backed news agency, Hindusthan Samachar, for its daily news feed, The Wire reported on Saturday.On Feb 14, Prasar Bharati, which runs Doordarshan and All-India Radio, signed an exclusive contract with Hindusthan Samachar — a decision which came some two years after it cancelled its subscription with the Press Trust of India (PTI), India's largest and oldest professional news agency.
Hindusthan Samachar has been providing its wire services to Prasar Bharati free of cost since 2017 on an "evaluation basis". However, the two parties entered into a formal agreement in which Prasar Bharati will pay nearly Rs7.7 crore to Hindusthan Samachar for a period of two years ending in March 2025. Indian general elections are due by May 2024.Hindusthan Samachar, a multi-lingual news agency, was founded in 1948 by Shivram Shankar Apte, a senior RSS figure and co-founder of the Vishwa Hindu Parishad, along with RSS ideologue M.S. Golwalkar.
Ever since the Modi government came to power, Hindusthan Samachar has been a regular beneficiary of government advertisements and has been reported to have plans to shift its small office in Jhandewalan near the RSS's Delhi office to a bigger one in Noida. Prasar Bharati's latest move to induct Hindusthan Samachar formally was preceded by the Narendra Modi government's bitter run-ins with news agencies PTI and United News of India (UNI) over the last few years.
Since 2014, the Modi government has had major and minor problems with the PTI's independent news coverage. However, matters came to a head when in 2020, a senior Prasar Bharati official, Samir Kumar, had written to PTI's chief marketing officer that the news agency's "recent news coverage" on the Ladakh standoff was detrimental to "national interest" and undermined "India's territorial integrity".The letter added: "It is also mentioned that the PTI had been time and again alerted by the Public Broadcaster on editorial lapses resulting in dissemination of wrong news harming public interest."
The government was also majorly irked by PTI's interviews with the Chinese ambassador to India and the Indian ambassador to China in 2020, in the wake of the border standoff in Ladakh. The government felt that while the Chinese ambassador shouldn't have been interviewed in the first place, the Indian ambassador Vikram Misri's comments in the PTI's interview on Chinese intrusions caused much embarrassment as they contradicted the prime minister's claim that no Indian territory had been compromised.