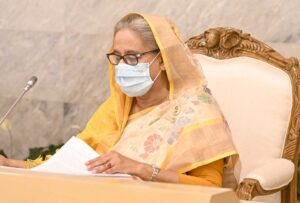 Moon Desk: Prime Minister Sheikh Hasina on Monday asked the authorities concerned to operate the open market sale (OMS) through cards in order to ensure discipline in the management of the food programmes.
The PM issued the directive while chairing the Cabinet meeting at her office in the city.
"The PM has given a directive to fulfill the gap in the OMS management…. She asked to take steps to give the OMS commodities through cards and operate it through the card system so that there will be no gap in its management," said Cabinet Secretary Md Mahbub Hossain at a press briefing.
He said the PM also directed the administration to monitor the market of commodities and strengthen the vigilance against food hoarders.
Meanwhile, the Cabinet approved a proposal to issue an SRO by the Security Services Division to provide the dual citizenship facility to the Bangladeshis who obtained citizenship from 44 more countries.
Now the Bangladeshis having citizenship from 57 countries are enjoying this facility. So, the Bangladeshis having citizenship from a total of 101 countries will enjoy this facility after the issuance of this SRO.
Among the 44 new countries, there are 19 African countries, 12 South American ones, 12 Caribbean ones and one Oceania country.
The 44 countries include Egypt, South Africa, Kenya, Algeria, Sudan, Morocco, Ghana, Rwanda, Burundi, Tunisia, Sierra Leone, Libya, Democratic Republic of Congo, Liberia, Central African Republic, Eritrea, Gambia, Botswana and Mauritius, Brazil, Argentina, Bolivia, Colombia, Venezuela, Ecuador, Peru, Chile, Suriname, Uruguay, Guiana, Cuba, Dominica, Haiti, Barbados, Bahamas, Jamaica, Saint Lucia, Trinidad and Tobago, Grenada and Fiji.
The Cabinet also approved in principle the draft of Bangabandhu Sheikh Mujib Medical University (Amendment) Act, 2023 with a view to bring some changes including extension of the tenure of vice chancellor, pro-vice chancellor and treasurer of the university to four years from three years.
Besides, the Cabinet cleared the draft of Mujib Climate Prosperity Plan 2022-2041 in a bid to ensure sustainable development by paying a special attention to the climate issues and problems in different other plans including the Delta Plan 2100 and the Smart Bangladesh Vision-2041.
Some US$ 80 billion fund will be required to implement the Mujib Climate Prosperity Plan 2022-2041, said the Cabinet Secretary, adding that this plan was framed so that the country's development would be sustainable from the climate perspective.