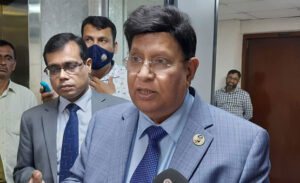 Moon Desk : Foreign Minister AK Abdul Momen on Sunday said the increased activities of Russia due to the situation in Ukraine might be the reason behind the revised decision taken by Russian Foreign Minister Sergei Lavrov, regarding his planned visit to Bangladesh.
"I can understand it. They are very busy. Their activities due to the war have increased to a large extent. Maybe for that reason he is unable to come," Momen told reporters after attending a programme in a Dhaka hotel, reports UNB.
The foreign minister said the Russian side in a diplomatic communication with the Ministry of Foreign Affairs conveyed that the Russian foreign minister is unable to come.
"He (Lavrov) wants to speak with me over the phone. And I agreed," Momen said, adding that the telephone conversation will be done at a mutually convenient time.
Earlier today, State Minister for Foreign Affairs Md Shahriar Alam told UNB that the two foreign ministers are likely to have a telephone conversation tomorrow or the day after.
Responding to a question, Momen said Bangladesh`s position on Russia-Ukraine war is "very exposed" (very clear) and Bangladesh has been maintaining an independent and balanced decision.
"It is a consistent approach. We have maintained a balanced and consistent foreign policy," he said.
Russian Ambassador in Dhaka Alexander Mantytskiy instead of Russian Foreign Minister Sergei Lavrov will represent his country at the IORA meeting, scheduled for November 24.
The Russian Foreign Minister was scheduled to visit Bangladesh on November 23, mainly to attend the 22nd IORA Council of Ministers meeting, to be held in Dhaka on November 24.
Russia is a dialogue partner of the Indian Ocean Rim Association (IORA) while Bangladesh is the current chair of IORA.
Momen met his Russian counterpart last month in Astana, Kazakhstan on the sidelines of the CICA Summit.
The IORA Council of Ministers meeting, to be hosted by Bangladesh, will be preceded by the 24th meeting of the Committee of Senior Officials, to be held on November 22-23.
The Indian Ocean Rim Association (IORA) is an inter-governmental organisation aimed at strengthening regional cooperation and sustainable development within the Indian Ocean region through its 23 member states and 10 dialogue partners.
IORA member states are Australia, Bangladesh, Union of Comoros, France, India, Indonesia, Iran, Kenya, Republic of Madagascar, Malaysia, Maldives, Mauritius, Mozambique, Oman, Seychelles, Singapore, Somalia, South Africa, Sri Lanka, Tanzania, Thailand, United Arab Emirates and Yemen.
The 23 member states of IORA and 10 dialogue partners are expected to join the ministerial and senior official meetings.
Bangladesh assumed the position of the IORA Chair at the 21st IORA COM meeting in Dhaka held on November 17, 2021 and adopted the theme of "Harnessing the opportunities of the Indian Ocean sustainably for inclusive development."