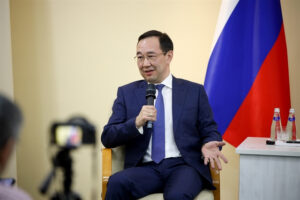 Moon Desk: Russia's Republic of Sakha (Yakutia) clearly understands the relationship with Asian partners, sees opportunities for new mutually beneficial ties, and actively promotes relations with many ASEAN member states, including Việt Nam, its head Aisen Nikolaev told foreign reporters during a press conference on March 23 (local time).
He was speaking in the capital city of Yakutsk at the International Conference on Climate Change and Melting of the Permafrost held from March 22-24 during Russia's alternate chairmanship of the Arctic Council for the 2021-2023 tenure.
Nikolaev believed that the strategic geo-political location of the Republic of Sakha in the Far East would positively step up such relationships. In particular, he discussed a project to establish a transportation corridor that could connect Yakutia with Asia and bring Yakutia's products to ASEAN countries and vice versa. He also outlined possible areas of cooperation, including mineral exploitation.
He said a Yakutia delegation had visited Việt Nam and identified several areas for positive cooperation, from tourism to mineral export from Yakutia.
This year, Yakutia would join international exhibitions held in Việt Nam, he said, adding that he was delighted at welcoming Vietnamese businesspeople to Yakutia to explore opportunities.
He said the investment climate in Russia and Yakutia in particular had significantly improved. Yakutia leapt to 13th place from 50th in 2018 in the rankings of investment-friendly localities in Russia.
Regarding the development of cultural and sports ties with Yakutia, he revealed that Yakutia would host the Summer Games "Children of Asia" next year, one of the largest sports events for children in Asia, and invited ASEAN member countries, including Việt Nam, to join this major event.