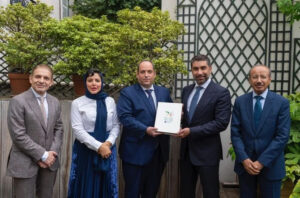 Moon Desk: Saudi Arabia has submitted the official dossier that forms part of its official bid to host World Expo 2030 in Riyadh.
Fahd Al-Rasheed, CEO of the Royal Commission for Riyadh City, presented the capital's detailed plan for the 2030 event on Wednesday to Dimitri Kerkentzes, the secretary-general of Bureau International des Expositions, the body that regulates World Expos.
Riyadh launched its expo bid on Dec. 16, 2021, and it has earned the backing of a number of nations, including China, Serbia, Nigeria and Bangladesh.
If the bid is successful, the hosting of the event will coincide with the culmination of Saudi Vision 2030, a massive program of reforms in the Kingdom designed to diversify the nation's economy and boost development and innovation.