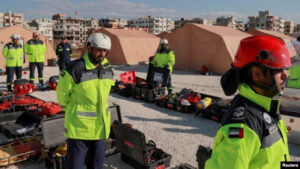 MOON Desk: Saudi Arabia is offering virtual health assistance to earthquake survivors in Syria and Turkiye, as part of the international relief effort following the disaster.
The Kingdom was already at the forefront of the aid effort after sending planes carrying food, shelter and emergency services, including medical supplies, to the region.
And now the Seha Virtual Hospital, which was launched by the Kingdom's Ministry of Health last year, is supporting the medical efforts of the Saudi Red Crescent Authority to help alleviate the suffering of the earthquake survivors in the two countries.
Health Ministry spokesperson Mohammed Al-Abdulali said he was honored to see Saudi male and female specialists in various fields working in the virtual hospital and providing care to survivors.
He added: "This is an extension of the humanitarian relief work in which Saudi Arabia's efforts are combined through the relief air bridge that the KSrelief operates and supports."
The specialists are supporting the efforts of Saudi Red Crescent Authority colleagues on the ground in Turkiye and Syria, he said.
He added that these specialists included cardiologists, internists, pediatricians, dermatologists, infectious disease specialists, obstetricians, gynecologists and ophthalmologists.
He said that they provided the necessary medical support and advice to their colleagues in the region through video communication.
The Seha Virtual Hospital provides its services remotely and its assistance is given  according to the directives of King Salman and Crown Prince Mohammed bin Salman.
With a growing live network of 130 connected hospitals, Seha Virtual Hospital is the largest of its kind in the world.
Its launch last year was part of the Health Ministry's ongoing efforts to digitize the healthcare sector.
Unlike simple video calls with doctors, Seha Virtual Hospital allows patients to visit their local hospital and attend a real-time live video clinical session with top specialists from across the Kingdom.