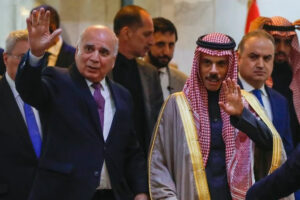 MOON Desk: Saudi Arabia's foreign minister, Prince Faisal bin Farhan Al-Saud, affirmed on Thursday that economic relations with Iraq were developing significantly.
Al-Saud made the statement during a press conference held in Iraq with the country's Foreign Minister Fuad Hussein.
Hussein said 'security cooperation continues with Saudi Arabia' and added they were 'working to reduce tensions in the region.'
Al-Saud also highlighted the depth of relations with Iraq, which he stated had 'witnessed great momentum recently.'
"We support the Iraqi government's effort to enhance stability," he said.
Al-Saud added that stability was crucial in order for opportunities for prosperity to rise.
Meanwhile, Prince Faisal bin Farhan received a phone call from the Secretary-General of the Organization of Islamic Cooperation, Hissein Brahim Taha, the ministry said on Wednesday.
During the call, they reviewed aspects of cooperation between the Kingdom and the OIC in various fields, in addition to discussing the most prominent regional and international developments.
Prince Faisal also received separate calls from his Cypriot counterpart Ioannis Kasoulides and his Kyrgyz counterpart Zheenbek Kulubaev, the ministry said.
During the calls, they reviewed bilateral relations, and ways to enhance and develop them in various fields of cooperation and joint coordination, and discussed aspects of enhancing joint action toward various regional and international issues.