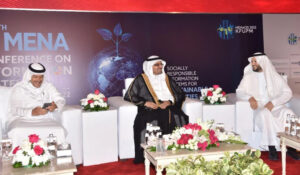 Moon Desk: Under the patronage of King Fahd University of Petroleum and Minerals President Mohammed Al-Saggaf, the Interdisciplinary Research Center for Finance and Digital Economy and the KFUPM Business School is hosting MENACIS 2022, the conference's fifth edition.
Held from Nov. 16-19 under the theme "Socially Responsible Information Systems for Sustainable Societies," the conference is providing a global platform for the presentation of innovative research in the field of information systems, aiming to promote a more sustainable future for all societies.
The conference welcomes scholars, practitioners and research students from various academic disciplines from up to 40 countries around the world. It discusses different topics that contribute to serving society, such as cybersecurity, artificial intelligence, fintech, digital transformation, information systems and more.
The conference program includes parallel sessions, keynote and author presentations, and social events with the effective participation of international scholars from the US, UK and France. It also includes an exhibition, workshops and other activities that aim to highlight the role of information systems in serving society.
The event comes within the framework of KFUPM's strategic transformation and is aligned with the Kingdom's Vision 2030, which aims to propel the Saudi economy toward transformation into a diversified knowledge economy.