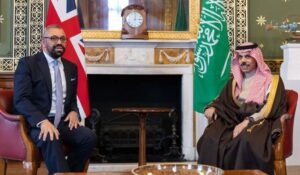 MOON Desk: Saudi Foreign Minister Prince Faisal bin Farhan took part in a joint Gulf-British ministerial meeting in New York on Monday, Saudi Press Agency reported.
Prince Faisal was joined at the meeting by ministers of the Gulf Cooperation Council (GCC) countries, as well as the British Foreign Secretary James Cleverly on the sidelines of the 78th United Nations General Assembly.
The meeting discussed the latest developments on the regional and international levels, and highlighted the importance of strengthening Gulf-British efforts to achieve the aspirations of countries and peoples, and to contribute to achieving more stability and prosperity.
The meeting was attended by Abdul Rahman Al-Rasi, Undersecretary of the Saudi Ministry of Foreign Affairs for Multilateral Affairs and the Director-General of the Office of His Highness the Minister of Foreign Affairs, Abdulrahman Al-Dawood.
Meanwhile, the first office of the Airports Council International (ACI) for Asia-Pacific and the Middle East was inaugurated in Riyadh on Monday, with Saudi Arabia's transport minister and General Authority of Civil Aviation chairman Saleh Al-Jasser and dignitaries plus top officials from 49 countries attending the event.
ACI is an organization of airport authorities aimed at uniting industry practices for airport standards through working with governments, regional members, experts and international groups.
During the inauguration ceremony, Al-Jasser said the opening of the office would contribute to expanding opportunities in the aviation market and enhancing the interests of member airports in the global council.
And he said it also represented the Kingdom's prominent standing in international organizations and its significant role in the aviation and air transport industry.
The ACI for Asia-Pacific and the Middle East was established in 1991 to meet the needs of Asian airports. In 2006, the Asia office was merged with the Pacific office, and it was renamed as the ACI Asia-Pacific and Middle East office.
It currently boasts 131 members representing 49 countries and oversees 617 airports in Asia, the Pacific and the Middle East.