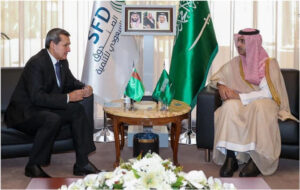 AN, AN, RIYADH: Saudi Fund for Development CEO Sultan bin Abdulrahman Al-Marshad received Turkmenistan's Deputy Prime Minister and Foreign Minister Rashid Meredov and his accompanying delegation in Riyadh on Thursday.
The meeting with the Turkmenistan officials occurred on the sidelines of the joint ministerial meeting of the strategic dialogue between the GCC and Central Asian countries held in Riyadh.
During the meeting, they discussed development issues of common interest, enhancing development cooperation between the two sides, and the potential vital opportunities for development projects in Turkmenistan.
Also on Thursday, Saudi Deputy Foreign Minister Waleed Al-Khuraiji received Meredov. The bilateral relations between both countries were reviewed during the meeting along with ways to enhance and develop them in several fields.