Saudi ministry launches online platform to streamline services for Hajj pilgrims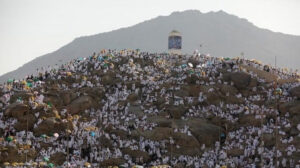 Moon Desk: The Saudi Ministry of Hajj and Umrah has launched its official planning, booking, and experience platform to streamline the services it offers to pilgrims traveling from abroad.
The Nusuk gateway aims to make it easier for Hajj pilgrims to purchase service packages and obtain visas without the need to go through external agencies, while offering options to improve the religious and cultural experiences of worshippers visiting the Kingdom.
Via the portal, the ministry has sought to provide equal opportunities for all Muslims wishing to perform Hajj.
The service allows pilgrims to register, choose, and pay for service packages including accommodation, meals, flights, guidance services, and transportation.
It is available for use by pilgrims from France, Germany, the US, the UK, Italy, Brazil, Spain, Canada, Netherlands, Belgium, Sweden, Austria, Australia, Bulgaria, Argentina, Greece, Georgia, Switzerland, Cyprus, Denmark, Venezuela, Ukraine, Norway, Trinidad and Tobago, Finland, Colombia, Guyana, Suriname, Ireland, Romania, Croatia, New Zealand, Serbia, Portugal, Poland, Reunion, Hungary, Panama, Czech Republic, Luxembourg, Paraguay, Mexico, Chile, Malta, Haiti, Peru, Dominican Republic, Cuba, Guatemala, El Salvador, Uruguay, Jamaica, Costa Rica, Nicaragua, Iceland, Ecuador, Bolivia, and Greenland.
The platform supports seven languages to help users create their own profiles and enter data, book and review service packages, submit documentation, and make payments.