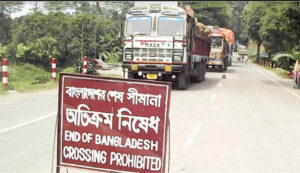 Faysal Azam Apu, Chapainawabganj: Sonamsjid land port of Chapainawabganj will be closed for six days on the occasion of autumn Durga Puja.
This information was informed in the circular signed by Abdur Rashid, general secretary of C&F Agent Association of Sonamsjid land port on Tuesday afternoon.
It is said that on the occasion of Durga Puja celebrations, Mahdipur Exporters Association has informed that all import and export activities will be closed from October 1 to October 6. However, the respective C&F operations will remain normal for the release of Indian goods loaded vehicles staying inside the Panama Sonamsjid Port Link Limited.
All kinds of import-export activities of Sonamsjid land port will be started again on October 8.