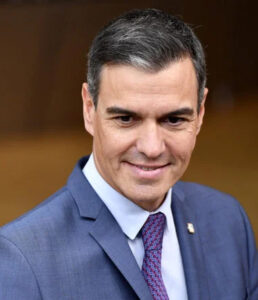 MOON Desk: Spanish Prime Minister Pedro Sánchez travels to Rabat on Wednesday along with 12 ministers before a meeting with Moroccan government officials. This visit comes as part of the European country's strategy to improve historically complex relations with its neighbor across the Strait of Gibraltar.
It comes 10 months after Sánchez went to meet Moroccan King Mohammed VI and put an end to a diplomatic crisis that had erupted in 2021 regarding Morocco's disputed territory of Western Sahara. During that meeting, Sánchez declared "a new phase of bilateral relations" with Morocco, an important partner with the European Union in fighting extremism and aiding the bloc's irregular migration policies.
Sánchez is flying south again on Wednesday and will attend a forum of business leaders from both countries in Rabat. On Thursday, he will sit down with Moroccan Prime Minister Aziz Akhannouch, a billionaire businessman who won a 2021 election and is considered close to Mohammed VI.
Sánchez's agenda doesn't include another meeting with the Moroccan king, with whom he shared the Iftar meal to break the day's fast during the Muslim holy month of Ramadan last April in the highlight of their reconciliation.
Sánchez's office said that the prime minister instead had a phone conversation with the monarch in which they agreed that the meeting would "contribute to consolidating this new era in the relations between Morocco and Spain." It added that Sánchez accepted the invitation by the king to make another official visit to Rabat at an unspecified date.
Moroccans make up the single largest foreign community with 800,000 residents in Spain, and important economic ties unite the neighbors which are separated by just 13 kilometers (8 miles) of water at the nearest point.
But relations between Spain and Morocco were severely damaged in May 2021 after Spain allowed the leader of the Polisario Front, which has waged a low-intensity armed rebellion seeking the Western Sahara's independence from Morocco, to receive medical treatment for COVID-19 in Spain.
Morocco responded by relaxing its border controls around Spain's North African exclave of Ceuta and thousands of people crossed over into the city. Tensions remained high until Sánchez did an about-face on Spain's long-standing position on Western Sahara by backing Rabat's proposal to give it more autonomy as long as it remains unquestionably under Moroccan control. Madrid maintains that the people of Western Sahara must decide their future via a referendum.
Sánchez paid a high price for moving closer to Morocco.
His shift on Western Sahara angered Algeria, a backer of the Polisario Front and major natural gas supplier to Spain. It was also widely criticized in Spain, which held Western Sahara as a colony until 1975, and caused friction inside Spain's governing left-wing coalition between Sánchez's Socialists and its junior partner. Politicians from across Spain's spectrum considered Sánchez to have betrayed the Sahrawi people of Western Sahara for very little tangible gains in return.
Now, Sánchez is aiming to reap some benefits after last year's return to diplomatic normalcy.
This will be first meeting since 2015 with such a large delegation of ministries represented. Sánchez is taking along his ministers in charge of the economy, energy, foreign affairs, security and policing, agriculture, commerce, transport and migration, among others.
Thursday's meeting between the governments is expected to produce several agreements between ministries and to favor business growth, including the opening of customs offices at the border crossings for Ceuta and its sister exclave, Melilla, which Morocco has never officially recognized as Spanish territories. Melilla's customs office was closed by Morocco in 2018, while Ceuta has never had one.
Spain is the largest foreign investor in Morocco, accounting for a significant chunk of all foreign investments, making economic cooperation a top priority for the Moroccan government. Morocco is Spain's third most important non-EU commercial partner after the United States and Britain.
Morocco, in similar fashion to Turkey and other countries in north Africa, has reaped economic benefits from the EU in exchange for curbing irregular immigration to Spain. That, however, has not stopped thousands of migrants and refugees, including young Moroccans looking for a better future in Europe, from attempting a dangerous crossing of the Mediterranean, or a perilous Atlantic journey to the Canary Islands.
The frontier policing methods of both Spain and Morocco have fallen under intense scrutiny following the death of at least 23 African men, many reportedly refugees from Sudan, when they stormed a border fence at Melilla in June.
Rights group Amnesty International held a protest outside the seat of Spain's government in Madrid on Wednesday, with cutout silhouettes of the victims of the Melilla tragedy. The rights group raises the number of deaths to 37 and says that 77 more people are still missing from the incident.
"A summit today between Morocco and Spain pretends to ignore what happened just seven months ago," Esteban Beltrán, head of Amnesty International in Spain, said. "We want to remember that (the victims) are with us, and we want to remember the suffering of their families who have no information or a real investigation of what happened."