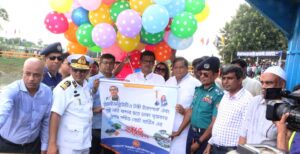 Moon Desk: Speedboat service has been launched on Saturday from Tongi river port to Dhaka circular waterway with five fast speedboats. In the first phase of the private initiative, speedboats will ply on two routes: Tongi/Abdullahpur-Kada and Tongi/Abdullahpur-Ulukhola (Kaliganj). Tongi-Kadda fare 150 taka takes 25 minutes and Tongi-Ulukhola (Kaliganj) fare 120 taka; It will take 10 minutes. In light of passenger demand, speedboats will be launched on two routes, Kadda-Gabatli and Gabtali-Sadarghat.
State Minister for Youth and Sports Zahid Ahsan Russell MP and State Minister for Shipping Khalid Mahmud Chowdhury MP inaugurated the speedboat service on the Dhaka circular route from Tongi river port to Tongi river port. Earlier, the two state ministers inaugurated BIWTA's Ecopark at Tongi River port.
Ministry of Shipping Secretary Md. Mostafa Kamal, BIWTA Chairman Commodore Golam Sadek, Naval Police Chief Md. Shafiqul Islam, Gazipur City Police Commissioner Mullah Nazrul Islam, Deputy Commissioner Anisur Rahman and others were present.
The State Minister of Shipping said that by opening a circular waterway around the city of Dhaka, steps have been taken to reduce the traffic pressure on roads and to introduce cost-effective passenger and goods transportation system by waterway. The waterway was commissioned by the BIWTA through the construction of nine landing stations along with the river dredging of the circular waterway. At present, despite the importance of the cargo transportation system in the said waterway, it has not been possible to make the transportation system passenger-friendly due to the lack of low-height bridges, extra time and passenger-friendly environment. Later water bus was introduced by BIWTC but it is currently closed due to various reasons. At present, due to increasing passenger demand on the circular waterway from Tongi river port, steps have been taken to launch fast speedboats. Moreover, in the light of passenger demand, more steps will be taken to launch fast speedboats by creating new waterways in the circular waterway of Dhaka city. The introduction of speedboats on the circular waterway of Dhaka will enable the people of the area to reach their destinations in a traffic-free and cost-effective manner and will help reduce traffic pressure on the roads.